WORSHIP TIMES
FBCWF Downtown Campus

8:15 AM – Worship Center (Blended)
9:45 AM - Worship Center (Contemporary)
11:00 AM - Worship Center (Contemporary)

FBCWF West Campus

9:45 AM & 11:00 AM - Worship Center (Contemporary)

Church At Sheppard

9:45 AM & 11:00 AM - Worship Center (Contemporary)
CHILDREN
8:15 a.m. – Babies thru Kindergarten… Downtown Campus
9:45 a.m. – Babies thru Kindergarten… Downtown Campus, West Campus
11:00 a.m. – Babies thru Grade 5… Downtown, West & Church At Sheppard Campuses

CHILDCARE: For All Campuses
Ages: Birth thru Age 3
Check-in: Please follow these Safe Social Distancing Practices…

Preschool Doors: Only one (1) parent may enter the Preschool Doors with their child or children The same parent is needed for Pick-Up.
Sign-In: Main Preschool Desk/Counter
Family Members: Other family members will need to proceed to the Worship Center... via another entrance near preschool or by using a courtesy shuttle.
WATCH LIVE
Sundays
8:15 and 11:00 AM
FACEBOOK:
First Baptist Church, Wichita Falls

WEBSITE:
Fbcwf.org
(Click Watch Live Button, Upper Right Corner)
TELEVISION:
CFNT - Cable Channel 10; Antenna Channel 20.1 (9:45 and 11:00 AM)
A NEW WAY TO GIVE
Find our new Generosity Boxes located near every Worship Center entrance for the ease and convenience of giving to the ministries of FBCWF.
Two Ways To GIVE: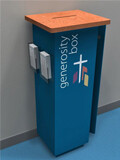 New Generosity Box